Last week we highlighted how having a customer perspective can redefine the way that you look at your dealership and any potential project that you want to tackle. Looking through the eyes of target consumers can redefine any industry even if your goal isn't a major overhaul. To take a look at how you can find your ideal customer experience, take a look at last weeks post, here.
Today: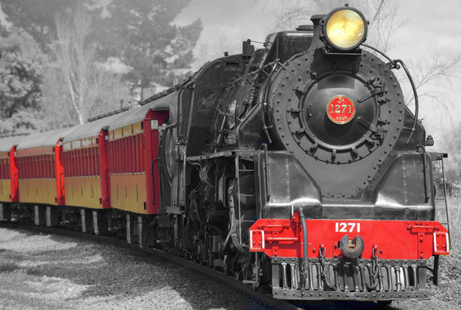 From trailblazing tracks across many seldom seen sights in the United states, the heyday of the passenger railroad has long since passed. With power and a monopoly on distance travel at their height, complacency set in afforded new innovations to steal away customers. Riders wanted the best way from A to B and history shows it didn't end up being on the track.
Over time we've seen examples of organizations executing a flawed strategy when the key to their ultimate success would have been looking around at what others in their category were doing. In short, our customers don't only look at our OEM when making their purchasing decisions so why should we? Today, we  explore how to utilize that experience and emotional connection we developed in week 1, to look around the industry, compare ideas, and find the the methods that best serve our vision. 
To gain market share
OEM's create complementary vehicles, however as dealers we sell our customer experience just as much as the vehicles. It can create future opportunities, repeat customers, and ambassadors of our dealership. Dont feel limited or constrained to only take ideas from your dealer 20 or OEM. Look across industry for dealerships or OEM's who are known for exceptional customer interaction, study those experiences, and take the best pieces and parts for your market. With our ideal customer vision we can find experiences that fit our goals and
begin to paste together the mosaic of the perfect dealership for your market. It also helps to have someone who can navigate Manufacturer requirements to ensure you get everything on your wishlist. Only you will know which parts will fit your ideal approach but we have brought together a couple of trends we are seeing dealers implement in dealerships that achieve a customer forward approach.
Community rooms
in dealerships while the concept itself is simple, the application of this utility space is ingenious. The rooms are very basic, maybe a small utility kitchen to accommodate a basic food prep/ service with some tables and chairs. This space is a gateway to your dealership through gatherings like church groups, service organizations, or any community meetings. By allowing future or current clients to utilize your dealership for free, you are increasing exposure to individuals that may have never even walked in your door.  Naturally this symbiotic relationship will create new ambassadors of your dealership especially through special offerings for group members. (Free car wash, discounted oil change, donuts for the meeting). This space is a long term investment that pays dividends year over year by having customers drive more customers, through a utilitarian space.
Good Eats,
Another rising trend across the industry is the use of a third party national vendor franchise to provide coffee and or full service amenities to your clients, creating an all incorporated guest waiting area. This feature creates a destination location of an easily recognized food product that is unique, branded and only available through a licensed vendor. You can offer your guests comfortable seats, good ambiance, and some tasty food! These vendors can pay you rent for the square footage they occupy or a percentage of sales model, some dealers even provide the space for free just to have the service/product available for their guests. This is a customer pay feature, while many dealers offer free coffee and other basic amenities, research shows that customers derive value and satisfaction from price. With this in mind our customers will not only get a higher rate of satisfaction from a premium serviced coffee and donuts or sandwich, but a staff maintained product will ultimately be inherently be better. As an added bonus, your staff now have an on-site place to get food and drink without leaving the dealership!
There are a variety of other ways that your dealership can implement even more simplistic shifts to your facility and the possibilities of the features and options you can include in your guest's experiences range in scope and scale. Make sure it fits your style, culture, and guest needs, and you do your homework on what you can and can't do in your area.
Now that we are able to visualize our ideal customer experience and conceptualize the pieces and parts that will come together to allow for that to happen; we will look at sourcing project ally's and ways to tell if a long term partnership won't go the distance, even before ink hits the paper. We will explore these concepts and more next week on the road to NADA,
Buckle Up
For any questions or concerns please feel free to reach out to the author, Here
*Next weeks post will be up 1/26/2018 @8:00am*